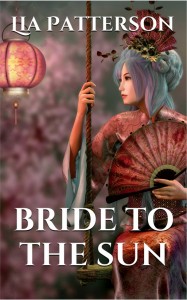 I'm so very pleased to announce that Bride to the Sun, my first novel, is now available as a Kindle eBook on Amazon! From the blurb:
Once, she could pluck fire out of the very air. Now she is the most insignificant member of an imperial court seething with intrigue.
Shay, firedancer and bride to the sun, faces punishment for the crimes of her dead father: she has her magic bound and at the emperor's whim finds herself handed over as concubine to a barbarian lord. However, Lord Medyr of the Hawk doesn't particularly fancy such a dubious gift – proving a surprise  both to Shay and to the man who wants to use them as pawns in his ruthless bid for power.
The reserved, self-controlled firedancer is bewildered by the task of having to deal with that strange creature, a male. Yet with enemies threatening on all sides, Shay and the hot-headed warrior from the north must build a fragile bridge of trust. But will they realise in time that the growing attraction between them is also their deadliest danger?
A tale of elemental magic, perilous intrigues, a tortoise and pond slime.
The story, set in a fantasy world inspired by my travels to Asia and my interest in ancient Chinese history, has been a long time in the making, but is now finally seeing the light of day. If you want to have a peek inside, the first two chapters are available here, or you can use the 'look inside' feature on Amazon. So read, review and recommend it to all your friends!
Bride to the Sun on Amazon: US  UK   Germany  Canada  Australia  France  Netherlands