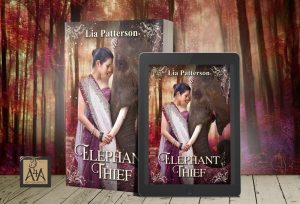 Releasing a new book or fanfiction story always feels a bit like letting a child go out into the great, wide world and hoping that people will like it!
I suppose it's all the time and effort you invest as an author, the enthusiasm you feel while writing, and the wish that your readers will see the characters and world you've created through your eyes and fall in love with them.
So today I launched my youngest offspring – Elephant Thief – a fantasy romance. It's available as both eBook and print edition and I hope you'll have as much fun reading it as I had writing it!
Elephant Thief on: Amazon  iBooks  Kobo  Nook  Smashwords