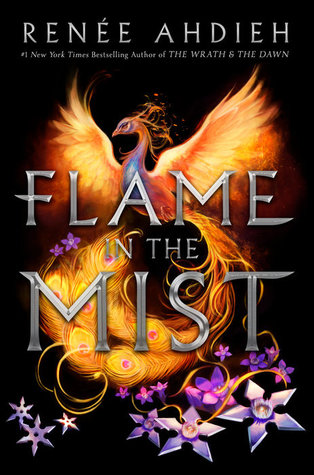 Flame in the Mist, set in a world strongly based on Medieval Japan, tells the story of Mariko, the daughter of an important Samurai lord who is betrothed to the younger son of the emperor of their land. On her way to the capital to get married, her party is ambushed. She can escape into the forest, but everybody else is killed. For reasons of her own, she then decides not to return home, but to discover who wants her dead and why. In order to do that she dresses up as a boy and joins an outlaw group called the 'Black Clan' and from there the story takes off.
I have to say I'm rather conflicted about this book. There are some aspects of it I liked a lot, but others I'm not so fond of. So let's start with the good:
The world! I love reading fantasy novels inspired by Eastern cultures and the world of this one is well researched.
The language – it's rather flowery and probably not to everybody's taste, but I thought it fitted the theme of the novel well and enjoyed even the more far-fetched metaphors.
The characters – for such a traditional society the heroine Mariko is surprisingly modern in many of her attitudes (for example to pre-marital sex or women's roles), but on the other hand she's got spunk and I also liked some of details the author added to flesh her out, for example that she's got an interest in inventing things.
The not-so-good:
The magic – I would have liked a better idea of how magic works in this world. Perhaps there will be a better explanation in the sequel, but as it is, it's frustratingly vague and does not seem to follow any rules.
The plot – this unfortunately asks for a lot of suspension of disbelief. To give an example, Mariko is kept as a virtual prisoner in the camp of the Black Clan and has one of the outlaws spy on her secretly. And yet they never notice she's a girl dressed up as a boy? All the practical considerations like finding a place to pee out of sight or menstruation just do not seem to exist in this world.
So for my taste, overall Renée Ahdieh got a lot of things right and quite a few wrong. Yet I will probably still read the sequel 'Smoke in the Sun', simply to immerse myself in this world again (and because I hate not knowing how a story ends!).